On the eve of her appearance at the Melbourne Writer's Festival, world-renowned poet and multi-award-winning indigenous writer Ali Cobby Eckermann features in a new podcast from The Garret.
A Yankunytjatjara/Kokatha woman from the South Australian and Northern Territory desert and now Adjunct Professor with the RMIT Writing and Publishing program, Cobby Eckermann's work reflects her experience as part of the Stolen Generations.
Recognised as one of Australia's most celebrated poets, she said she was first published while she was living in the desert.
"The world was pretty small, and yet it was bigger than I'd ever known because I'd met my family," she said.
"I wanted to replicate that for other people like myself, because there's so many thousands of people who share the same story – Stolen Generation adults who have connected or not connected, have connected and still feel disconnected, have connected and still struggle for those missing years."
Cobby Eckermann talks of honouring "this terrible past" in her work but said it was also important to write about the fantastic resilience and hope that comes from the Aboriginal community: "The funny things, the funny moments, the things that define us, the resilience… the cleverness."
The writer recently joined Astrid Edwards, Director of The Garret podcast, for a moving interview reflecting on her early work in the desert, finding inspiration and healing in an Italian castle, and the issue of Aboriginal literature on school curriculum.
She said it was a privilege that Year 12 programs in Australia were teaching some of her poetry but also believes it should be mandatory for every award-winning Aboriginal piece of literature to automatically go on to curriculum.
"The curriculum needs to be one of the first places that we can change this attitude of 'second class citizen' and 'less intelligent', and we have a responsibility to the young people in Australia that they should be reading literature," she said.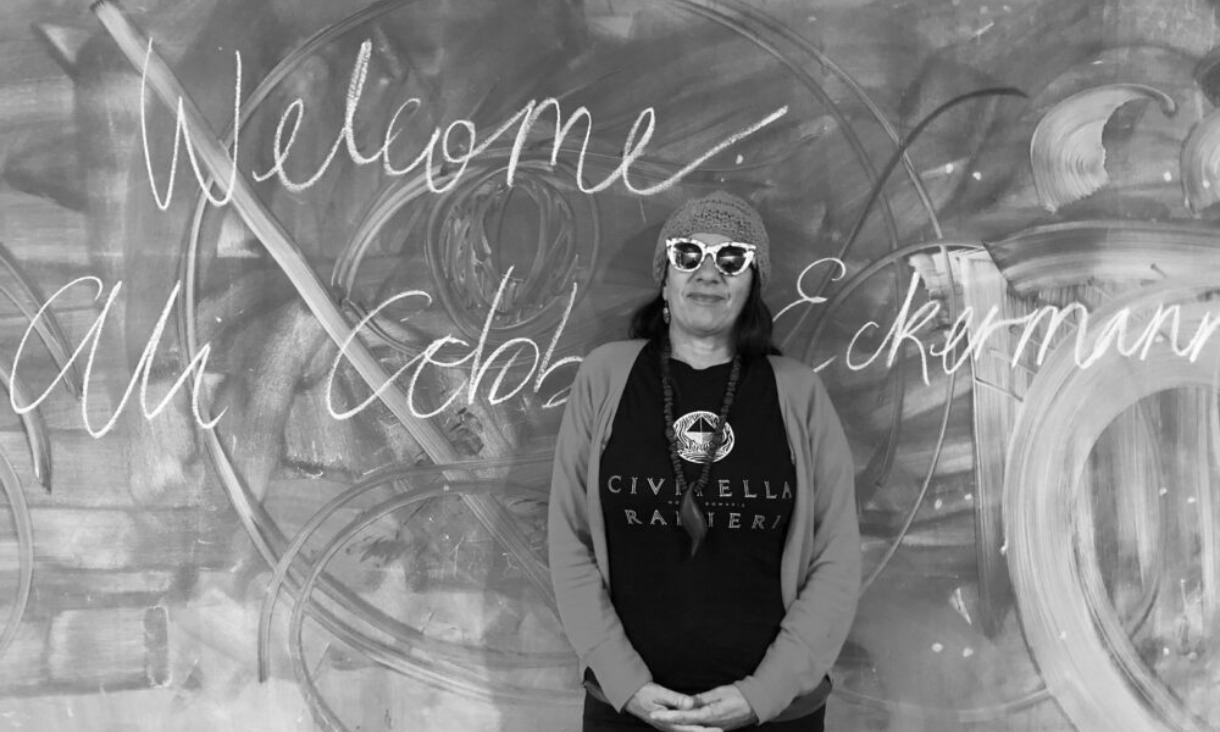 In 2017 Cobby Eckermann won the highly prestigious Campbell Wyndham Prize from Yale University. She is the author of seven books and has won many Australian literary awards including the Kenneth Slessor Prize for Poetry and the 2013 Book of the Year award at the NSW Premier's Literary Awards.
In 2012, she received a Deadly Award for outstanding contribution to Indigenous Literature.
Associate Dean Writing and Publishing Francesca Rendle-Short said Cobby Eckermann's appointment as Adjunct Professor was a major highlight for the University's writing program.
"Ali brings such wisdom alongside tested and experiential insights," she said.
"Her insistence on kindness at the base level of all relationships is something we can learn a lot from."
Even before her appointment as an Adjunct Professor in 2019, Cobby Eckermann had well-established ties to RMIT. She is a Writers Immersion and Cultural Exchange Program (WrICE) alumnus, travelled with the program to Indonesia and took part in a series of WrICE events at Castlemaine State Festival and Melbourne Writers Festival.
She was recently awarded an Australia Council grant and appointed as their new Literary Fellow and in August was also a Visiting Poet and undertook a residency at RMIT's Mccraith house in Dromana.
Cobby Eckermann will speak at a number of events during Melbourne Writers Festival, including, on Thursday 5 September, in conversation with Francesca Rendle-Short. She will also be appearing as part of Blak & Bright First Nations Literary Festival  with a number of events held in RMIT's Storey Hall and Ngarara Place, including two free events on Saturday 7 September: Big Blak Poetry Read and Treaty, Yeah.
A full transcript of The Garret Podcast with Cobby Eckermann and Edwards is available here.
The Garret features the best Australian writers talking about their craft. The organisation is mentoring and collaborating with RMIT's Bowen Street Press (BSP), an independent, student-led publishing house (the backbone of the Master of Writing and Publishing).